Blackwood & Bell
You have been recruited by detectives Blackwood & Bell to find clues and solve crimes in London and across the world!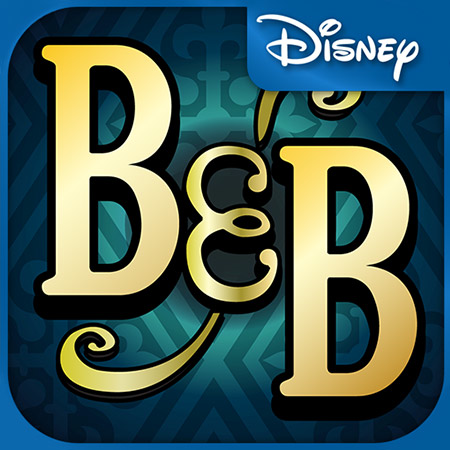 You have been recruited by detectives Blackwood & Bell to find clues and solve crimes in London and across the world!
© 2012 Disney. In addition to standard messaging rates, purchasing and downloading Disney games results in a charge to the applicable mobile phone bill or iTunes account. If you are under 18, get your parent's permission first. Apple, the Apple logo, iPod, iPod touch, and iTunes are trademarks of Apple Inc., registered in the U.S. and other countries. iPhone is a trademark of Apple Inc.
Star Wars Rebels™: Recon Missions
Based on the hit TV show, Star Wars RebelsTM! Rebels wanted! Are you ready to stand up against the Empire? Become an intergalactic hero in Star Wars Rebels™: Recon Missions, the new action-platformer mobile game! Take on 4 FREE levels of battle against the Empire as Ezra Bridger, dodge TIE fighters, blast Stormtroopers, and drive an Imperial AT-MP. With in-app purchases, wield a LightsaberTM, fight Star Wars™ bosses, drive an AT-DP, and unlock 30 more levels and 50+ unique challenges. Customize and expand a secret Rebel Haven where heroes can hide out and rescue citizens. And, interact with characters like Zeb the muscle of the Ghost team, Hera the pilot, and even Chopper the grumpy Droid™. Set five years before the events of Star Wars™: Episode IV: A New Hope™, Star Wars Rebels: Recon Missions showcases the exploits of a band of heroes who helped spark the rebellion. Fight to save citizens of Lothal and restore hope to the Star Wars Rebels universe by joining the rebellion today! The game features enhanced shading and dynamic visual effects through Metal support, which gives players a truly unique Star Wars Rebels, experience For Everyone: • BATTLE against the Empire as Ezra Bridger, the street-smart hero, and dodge TIE fighters • DRIVE an Imperial AT-MP and activate special attacks to take down the Empire's legion • COLLECT Hope and gift to citizens to earn powerful boosts • CUSTOMIZE your secret Rebel Haven with unique rewards like living units, towers, building mods, and art • DISCOVER secret rooms, Stormtrooper helmets, and play to earn rewards from Chopper With In-App Purchases: • UNLOCK 30 additional levels, with more Empire enemies, powerful boosts, secret rooms, and unique rewards to expand your Rebel Haven • BATTLE STAR WARS BOSSES including TIE bombers, AT-DPs, and TIE fighters • WIELD a Lightsaber as Kanan Jarrus, the cowboy Jedi, and battle with your twin-blaster as Sabine Wren, the explosive artist STAR WARS © & ™ Lucasfilm Ltd. All Rights Reserved. For the best experience, we recommend playing this game on an iPhone 5/5s/5c, 6/6+, and iPads running iOS7 and above. Playing on an iPhone 4/4S may result in longer load times and slower performance. The Star Wars Rebels: Recon Missions App is free to play. However, there are optional in-app purchases available for purchase that cost real money. If you choose to make a purchase, your [iTunes/GooglePlay] account will be charged. Before you download this experience, please consider that this app contains in-app purchases that cost real money, push notifications to let you know when we have exciting updates like new content, as well as advertising for the Walt Disney Family of Companies. Children should always ask their parent or guardian to download and play. WiFi or data connection is needed for some features. Network or Carrier data fees may apply if WiFi is not connected. [iOS only: This game contains Game Center. If your mobile device has multiple Game Center profiles, you can visit your device settings to designate the account to sync to this game.]
More Info
Cinderella Free Fall
From the creators of Disney's hit games Frozen Free Fall and Maleficent Free Fall comes a NEW puzzle matching adventure in the enchanting world of Cinderella Free Fall! Inspired by Disney's new live action film Cinderella, play as the most iconic princess of all time, connecting and matching luminous butterfly jewels in this FREE puzzle adventure with 100 dazzling levels!
More Info
Club Penguin Sound Studio
POP, ROCK, DANCE, DUBSTEP, and more… It's all in your hands to mix amazing one-of-a-kind tracks. From Club Penguin, Disney's #1 virtual world, SoundStudio lets you experiment with cool beats, mix crazy sound effects, and show your sound savvy as you create unique songs to play for friends. What are you waiting for? You got this—make music!
More Info